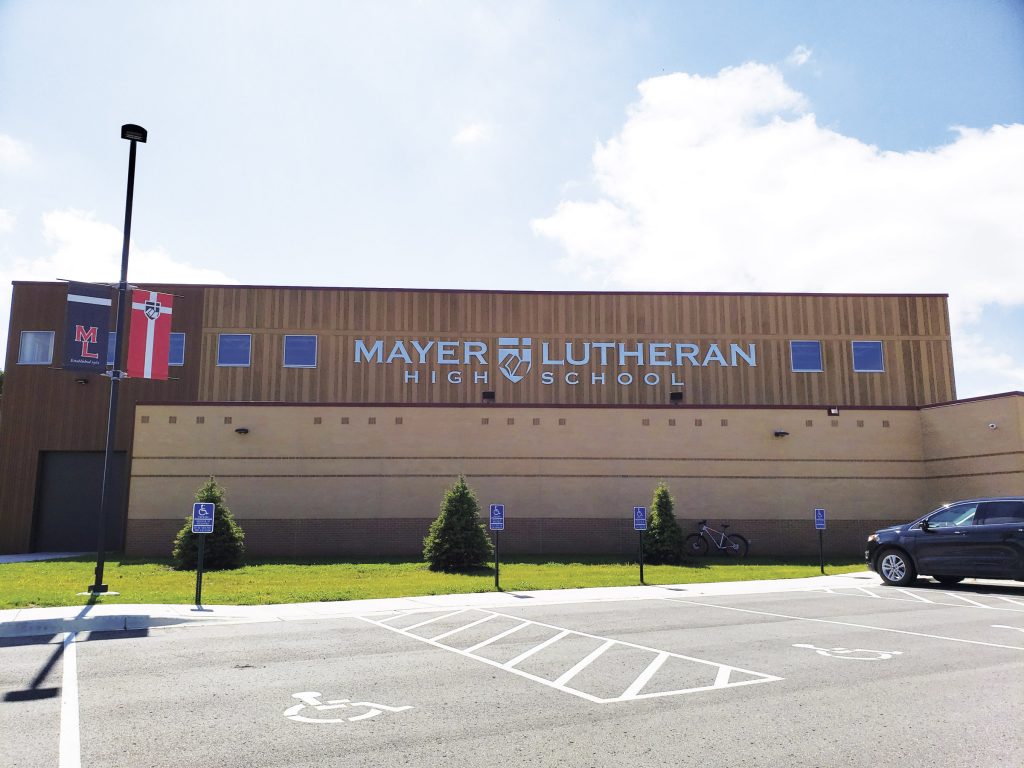 Information updated September 2019
"Preparing the next generation of Christian leaders."
School Profile
Executive director: Joel Landskroener; principal: Kevin Wilaby; director of Genesis Virtual Academy: Kim Ross; grades: nine through 12; activities director: Kris Gustin; director of admissions/enrollment: Dan Perrel; athletic conference: Minnesota River; address: 305 Fifth St. NE, Mayer, MN 55360; phone number: 952-657-2251; website: www.mayerlutheran.org.
About MLHS
Mayer Lutheran High School is committed to providing a foundation of Christian education, and students of all denominations are welcome.
Faculty members are dedicated individuals, committed to Christian education, in addition to providing a rigorous academic experience for students. They act as friends, advisors, coaches, and mentors to students who commute from 52 surrounding communities (distances up to 30 miles), including Dassel, Shakopee, Buffalo, and Wayzata.
Busing is available from many locations, including the Waconia, Chaska, Watertown, Excelsior, and Howard Lake areas. Assistance with car-pool arrangements is also provided.
The curriculum is designed for all levels of learning, and the student/faculty ratio is 14:1. Students have continuous opportunities for individual help and attention, and more than 90 percent of the graduates continue their education beyond high school.
Post-secondary opportunities, independent studies, and individual programs allow each student to build a challenging schedule to fit his or her individual interests and strengths. Technology opportunities challenge students to stay current and knowledgeable in an ever-changing world.
More than 90 percent of all students are involved in school-sponsored co-curricular activities, including athletics, drama, National Honor Society, yearbook, speech, fine arts, mission trips, and more.
Athletics include football, volleyball, lacrosse, boys and girls soccer, boys and girls cross country, boys and girls basketball, trapshooting, dance, wrestling, baseball, softball, boys and girls track, and boys and girls swimming.
Financial aid is available on a need-only basis for families who would like their students to attend MLHS, but cannot afford it. This year, more than $300,000 is available for student aid. Application forms are available on the school's website, www.mayerlutheran.org.
Expansion complete
A new, 43,000-square-foot addition was completed and occupied in August 2018. Built in less than nine months, the facility was open for the first day of school of the 2018-19 school year. The entrance from Highway 25 includes abundant parking, and an arrival plaza for dropping our students and guests. The commons features a cozy entrance with a fireplace and casual seating. The office suite and field house, complete with health suite and training room, are serving students every day. The field house is available to rent for events. Contact the school office at 952-657-2251, or visit the website at www.mayerlutheran.org for more information.
Stay connected
Follow MLHS on Facebook at
www.facebook.com/mayerlutheran and on Twitter at www.Twitter.com/MayerLutheran.